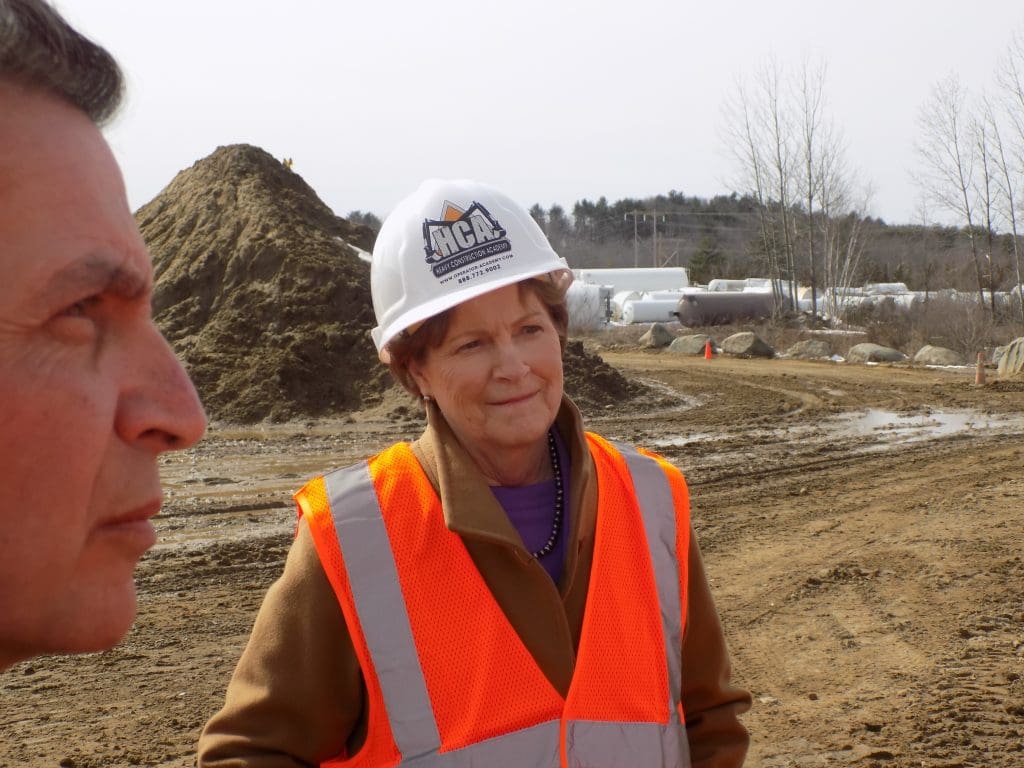 BRENTWOOD — Employees of Brentwood's Heavy Construction Academy told Sen. Jeanne Shaheen Tuesday they need help advocating for career schools like their own to meet the current demand for trade jobs.
Shaheen, D-N.H., visited the school to highlight workforce development. When it comes to the trades, not just in New Hampshire but around most of the country, there is a shortage of trained workers.
Students at the Heavy Construction Academy, 75 percent of whom are veterans, participate in a six-week program where they train on nine of the most commonly used pieces of equipment. At the end of the program, they receive a certificate of completion identifying them as having entry level proficiency in operating construction equipment.
Students come from all over the country. On Tuesday, Shaheen met students hailing from Mississippi, Virginia and Florida.
Shaheen was given a tour of the training property led by Operations and Development Director Brian Martin and founder and President Ralph DelVecchio. DelVecchio said the schools has around 70 pieces of equipment, a significant cost of upkeep.
"We try to replicate real-life scenarios they may come across on a construction site," Martin said as dozens of students operated bulldozers and instructors facilitated the site.
Martin said 76 percent of students leave the school with a good-paying job. Most start by earning $18 to $25 an hour. For top operators in the construction field, some can make $80,000 to $100,000 a year.
"We need people in trades," Shaheen said. "We just don't have enough of them."
Listen: Latest From the Newsroom
Martin said one of the school's biggest obstacles is helping students finance their education. Because of its "non-traditional" school status, students have difficulty finding financial assistance, including a lack of opportunity to take out loans.
Over the past 90 days, Martin said, 1,500 have inquired about attending the school. But in reality, less than 30 will enroll.
Shaheen said there is "a huge backlog of infrastructure investment in the country."
″(I'd like to look at) reworking student loan programs so they can support this type of career," she said.
Shaheen called the Heavy Construction Academy "an impressive model," noting there are shortages all over the country for the type of worker the Heavy Construction Academy is training.
Many of the veteran students are using their post 9/11 GI benefits, but for the average civilian interested in the $18,700 program, affording it can be difficult. The academy does pay for housing and transportation during the program.
Shaheen said she hopes to look at the issue at the federal level, where she serves on the Senate Committee on Small Business and Entrepreneurship.
"In the last two to three years, (businesses I visit) say workforce is our biggest issue," she said.
From: http://www.seacoastonline.com/news/20180327/sen-shaheen-we-need-people-in-trades