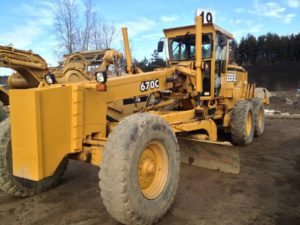 Course Information and Training Requirements
Knowing how to use a motor grader can open up new opportunities for work in the field of construction. This type of heavy equipment is an important tool that workers can use to complete a variety of tasks, from making a solid foundation for a building, to removing snow efficiently. And because it can create a flat and level surface, it also plays an integral role in road building and maintenance.
If you want to work on large construction projects, getting your motor grader certification is a step in the right direction. That's because proper training will prove to employers that you know how to use this machine effectively and safely.
At Heavy Construction Academy, our heavy equipment program will include motor grader training. Once you've completed the course, these credentials can help make you a more desirable job candidate, so you can use your certification to stand out against your competition.
Are you interested in learning how to operate a motor grader? Below is some information to help you get started, but you can also contact us anytime to request additional details about our certification program.
Who should consider taking this course? Individuals who are interested in operating heavy machinery that includes a motor grader. From recent high school grads and veterans, to anyone else who's hoping to enter the field of construction or expand their skill set, our course will deliver the hands-on training that will prepare you for a wide range of projects.
What can you expect after completing this course? You'll be certified to use eight pieces of machinery and we have job placement assistance available to you through our Career Services department
How long does the course last? Just six weeks.
Are there any prerequisite requirements? No, you don't have to worry about completing any prerequisites prior to enrolling in our course. Simply sign up whenever you're ready to become a motor grader operator.
How should you prepare for this program? There isn't any special prep that you need to do before taking this course. We'll provide everything you need to succeed.
What can you expect to learn from this course? In addition to knowing the ins and outs of driving a motor grader, you'll also be certified on seven other types of heavy equipment: front end loader, backhoe, skid steer, roller compactor, bulldozer, excavator, and off road dump truck.
Do you want to see what students have had to say after completing our course? Head over to our testimonials page.
Career Options and Certifications
Requirements for motor grader positions will vary. However, job duties typically include tasks like spreading and leveling gravel, dirt, and stone during construction or maintenance of earthwork structures.
According to the U.S. Board of Labor Statistics (BLS), you can potentially earn $18-25 per hour, or $48,000 annually, on average, in the field of construction when you have the skills required to operate heavy equipment.
Operating a Motor Grader General Questions
Are motor graders hard to operate?
Once you know how to use a motor grader, and how to troubleshoot common problems that you might encounter, it isn't hard to operate this equipment.
Do you need a license to operate a motor grader?
Whether or not you'll need to get a motor grader operator license will depend on your state's requirements for CDL licenses that are needed to drive equipment to a construction job site. Therefore, it's wise to check your state's requirements to get the answer to this frequently asked question.
How do I become a better motor grader operator?
Even if you have some experience in operating this equipment, our motor grader class will provide you with hands-on training and motor grader operator tips from the pros. This education will allow you to discover even more about this machinery, and this knowledge can help you use a motor grader more effectively and safely.
If You Hope to Be the Best, Learn from the Best. Call Us Today!
HCA's motor grader loader training, which is part of our heavy equipment course, is taught by industry professionals with years of experience. Our campus is located in Brentwood, NH, but we've trained thousands of students from around the country. And with more than 70 pieces of equipment, we can guarantee one student per piece to maximize operation time.
Contact us at 888.772.9002 today to learn more about our training program, and to access information about financial aid and lodging assistance. Then, prepare to dig into your new career!