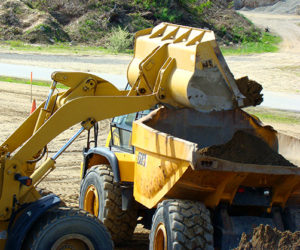 Course Information and Training Requirements
Dump truck operators play an important role on myriad work sites, transporting materials, and helping to ensure production moves along efficiently. These professionals are utilized in a variety of industries, including construction. And, because construction projects happen all over the country, there's a need for qualified, skilled, and properly trained and licensed dump truck drivers.
If you've been looking for heavy equipment training, here's some information to help you get started. Feel free to contact us if you have questions or you'd like to request details on training cost.
Who should consider taking this course? Anyone who is hoping to embark upon a new and rewarding career, as well as anyone who wants to advance a career in construction.
What can you expect after completing this course? In addition to knowing how to operate a dump truck, you'll be certified on a total of eight different pieces of heavy equipment.
How long does the course last? Just six weeks.
Are there any prerequisite requirements? No, there aren't any prerequisites or licenses to worry about before enrolling. Simply sign up when you're ready to move through dump truck training and job placement.
How should you prepare for this program? There isn't any special prep work that needs to be done before taking this course. We'll provide everything you need to excel.
What can you expect to learn from this course? Of course, you will learn to operate an off road dump truck. But, in addition to that, you'll also learn how to use a front end loader, skid steer, backhoe, roller compactor, bulldozer, motor grader, and excavator.
Want to see what our students have had to say after completing our course? Check out their testimonials.
Career Options and Certifications
In terms of outlook, reports show that job availability may increase by 12% every year. Plus, according to the U.S. Board of Labor Statistics, dump truck drivers can earn, on average, $18-25 per hour or $48,000 annually.
Also, we have job placement assistance available to you through our Career Services department
Acquiring new skills and learning safety measures is essential if you want a long-term career as a dump truck driver. At HCA, you'll receive comprehensive training through specific modules that focus mainly on seat time and hands-on education. And we guarantee one student per machine, so you can rest assured you'll get plenty of time to learn.
Operating an Off Road Dump Truck General Questions
Do you need a license to operate a dump truck?
Yes.
What license is needed to operate a dump truck?
After completing your dump truck operator course, you'll need to get your commercial driver's license (CDL). This is required to drive a dump truck.
There are different classes of CDL. Class A allows you to operate every type of vehicle in classes A, B, and C, but it's the most expensive. So, if you only want to drive a dump truck, you can stick with getting a Class B CDL, as that will be sufficient for your needs. However, it's best to be sure you make the right decision by checking with your state's requirements and qualifications first.
How do I get a dump truck license?
You'll get your CDL license from your state's motor vehicle service, just like you got your regular driver's license. Again, be sure to check your state's requirements to move through the process as smoothly as possible.
What should you learn in a dump truck training program?
The best dump truck schools will teach you how to operate a dump truck correctly. You'll learn about the vehicle itself, as well as how to drive it in a variety of settings with ease and confidence so you can keep yourself, as well as other drivers and pedestrians, safe while you're on the road.
How often do I need dump truck training?
To continue working as a dump truck operator, all you need to do is maintain your dump truck license, which is your CDL. This license typically expires every five years.
Be the Best by Learning from the Best. Call Us Today!
HCA's off road dump truck driver training course is taught by industry professionals with years of experience in construction. They have trained and certified thousands of students from all over the country, providing quality education. Plus, if you need help with lodging and financial aid, we can help with that, too.
Call 888.772.9002 today to learn more about our heavy equipment operator training program, and get ready to dig into your new career!