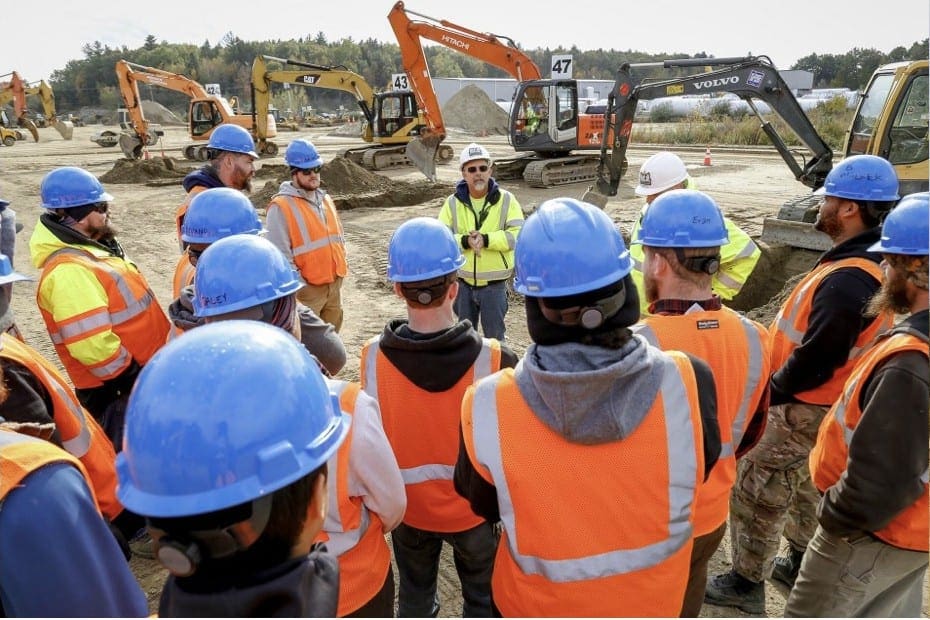 BRENTWOOD — Little boys and girls love big trucks, climbing on them, pretending to drive and moving earth with big "shovels." For those who never outgrew that love of big pieces of machinery, the right training can lead to very lucrative job offers.
For those men and women, the Heavy Construction Academy in Brentwood is the place to be. Brian Martin, director of business development and operations, said a six-week course will certify students in the operation of eight pieces of heavy construction machines; bulldozers, excavators, backhoes, articulated trucks, loaders, skid steers, rollers and dump truck, leading to great career options.
"The average student who successfully leaves here lands a job earning $18 to $25 an hour," Martin said. "We have companies calling us all the time looking for skilled operators."
The market is wide open for heavy equipment operators. Martin said unlike a specified degree that limits a student to one field, his students can go into construction, landscaping, waste management, departments of transportation, demolition or city workers. They can also create their own companies.
In 2018, HCA was named editors' pick for "Best Sandbox for Grownups" in New Hampshire Magazine's Best of New Hampshire poll. Martin said it is one of only about three or four such schools in the country.
"There is a critical need for skilled workers in this country," he said. "We can fill a need that really exists."
In six weeks, at about a quarter of the cost to attend a university for a degree, Martin said their students are ready to enter the workforce. He said about 84 percent of them get jobs quickly, some even having one lined up before they finish the course.
David Losh, an HCA admissions representative, said he came to the company having completed a four-year college.
"Here, we do not lose the student's attention span," Losh said. "College is not for everyone. In college you must take a lot of courses you are not interested in, to get to what you want to study. Of course, there is class time here, to learn things about excavation math, blueprints, elevations and safety, but you are not taking a course you will never use. Of the 240 hours of class time, 170 hours will find you in a machine."
While attending classes, Martin said the school provides breakfast and lunch. Out-of-state students have their travel and lodging costs taken care of. Dinner is the only meal they must get for themselves.
"We own building number three at the Seabrook Inn," Martin said. "Our students stay there, free of charge. It's almost a dorm-like setting but with better amenities. We even have a bus to transport to and from school."
The six-week course is divided into two sessions, level one and level two. Different color helmets show which level a student is at. The staff can communicate by radio with one machine, or with the entire class.
Jim Hawes, a level 2 instructor, said there is a big need for heavy equipment operators across the country. He said they teach old school technology and techniques along with the new computer systems.
"Our roads and infrastructure need work," Hawes said. "It takes a special talent to be an asset there and we can teach that. Computers can only do so much. A heavy machine operator needs to know what to do if technology fails."
Bill Devine, a level one instructor, said students who come here and give it their all will leave with a great career.
"Safety is always first here," Devine said. "I tell my students to not look in their mirrors, but to keep their heads on a swivel at all times. Mirrors only show so much, and these machines are too big to make errors."
So, who are the students learning these skills? They come from all walks of life.
Adam Croteau lives in Brentwood. He has been married for three years to his wife Megan and they have a one-year-old son Quintin.
"I was in landscaping for 18 years," Croteau said. "I was laid-off and decided it was time to do something different, to make a career good for myself and my family. I live locally and have driven past here many times, seeing the machines run around. With this training I can get into construction work, utility work like water or sewer, maybe even do some foundation work."
Serena Daley came to HCA from San Diego. When she graduates, she hopes to work in Maine or New Hampshire.
"I was in the Navy for 10 years and am using my GI benefits to come here," Daley said. "My family lives in Brooklyn. I think here I can be closer, but not too close to them, keeping my independence. I find the work interesting. I like it."
Daley said she learned about HCA at a military recruitment job fair. Initially, she got the information for a friend, then decided it was for her.
Every project at the school involves the use of blueprints. Each graduating class must complete a special project.
"We train in real world simulations," Tosh said. "It might involve a simulated gas line that students must dig around. If they hit it, they must know how to handle that. We have all the brand name vehicles, so our students will be familiar with the differences and be ready to operate any one."
Martin said they encourage students to log time on each different brand. He said it helps broaden their resumes, which HCA administration will help to prepare.
When they are nearing the end of the course, students will spend time with the staff of career services. A wall of success in there celebrates students as they find jobs.
Dr. Chris J. Anderson, dean of career services, and Ken Dunne, who works in career services with students, will help them build a resume, learn job interview skills and find out where to apply.
"We start seeing students come in at about week five," Anderson said. "When they see that job board it encourages and motivates them. We help in any way we can."
Martin said their career services assistance is available to their students for the life of their career.
HCA will host a "Lunch and Learn" workshop from 7:30 a.m. to noon on Nov. 3 for those interested in the academy. People can learn about the school and even get up close and personal with a couple trucks to see if the operator bug bites. Since the school is not eligible for student loan financing, attendees must be pre-approved for funding to attend. HCA is eligible for veteran GI Bill funding.
From: http://www.fosters.com/news/20181028/heavy-construction-academy-builds-usable-skills