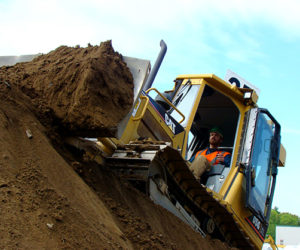 Course Information and Training Requirements
Bulldozers are versatile machines that are necessary in a wide range of construction projects. When you know how to operate a bulldozer safely, you can perform a variety of tasks in construction and demolition, such as digging, flattening, removing vegetation, and moving soil and rocks. Therefore, if you know how to use a bulldozer, it can give you access to a lot of job opportunities.
At Heavy Construction Academy, our training program will cover everything you need to know about this heavy equipment so you can use it confidently. You can rest assured that this certification will prove to employers that you know how to get the job done right. This will help you stand out against other job seekers who are vying for the same position.
Are you interested in learning more about the benefits of knowing how to use a bulldozer? Here's a bit of information to get started, but please don't hesitate to contact us if you have questions or want to know more about the program.
Who should consider taking this course? Anyone who's interested in operating heavy machinery. Whether you're a recent high school graduate, you're ready to switch jobs and enter the world of construction, or you're a veteran in search of a stable career, the right classes will give you the education and hands-on training you need to operate heavy equipment in a variety of settings.
What can you expect after completing this course? You'll be certified on eight different pieces of heavy equipment, including front end loader, skid steer, backhoe, off road dump truck, roller compactor, motor grader, excavator, and, of course, bulldozer. In addition to teaching you how to operate a bulldozer. We have job placement assistance available to you through our Career Services department
How long does the course last? Just six weeks.
Are there any prerequisite requirements? No, there aren't any prerequisites or licenses to worry about before taking our course. Simply sign up whenever you're ready to learn the ins and outs of driving a bulldozer.
How should you prepare for this program? There isn't any special prep that's required before taking this course. We'll provide everything you need to excel.
What can you expect to learn from this course? You will learn how to operate a bulldozer, and you'll also discover how to use seven other types of heavy machinery.
If you want to see what our students have had to say after completing our course, check out the testimonials page.
Career Options and Certifications
Job duties will vary based on industry and employer. However, reports show that job availability for individuals who know how to drive a bulldozer and other heavy equipment will rise by 12% each year.
Also, according to the U.S. Board of Labor Statistics (BLS), you can potentially earn $18-25 per hour, or $48,000 annually, on average.
The main training requirement is seat time. That's why our program consists of specific modules, and we focus on hands-on training and seat time.
Operating a Bulldozer General Questions
How do you get certified to drive a bulldozer?
You can be trained in the use of heavy equipment like bulldozers by enrolling in a trade school or vocational school, and signing up for certificate or apprenticeship programs.
At Heavy Construction Academy, we can help you get the certification you need when you're ready to learn how to drive a Bobcat bulldozer, as well as other types of bulldozers, so you can work on various construction and demolition sites.
Do you need a license to drive a bulldozer?
According to the BLS, a bulldozer operator might need a commercial driver's license in order to haul equipment to and from a construction site.
States might individually require and offer licensure to designate certain professionals as eligible for employment in this area. Therefore, it's important to refer to your state's requirements to determine what steps you need to take prior to applying for work.
How do I become a better bulldozer operator?
All you need to do is take our 6-week course to become certified. By the end, you'll know how to safely operate a bulldozer for a range of purposes.
Want To Be the Best? Then It's Time to Learn from the Best. Call Us Today!
HCA's heavy equipment operator training is taught by industry pros who have years of experience in construction. They've already trained and certified thousands of students from all over the country, and now they can do the same for you! Plus, if you need any assistance with lodging or financial aid, we can help with that too.
Contact us at 888.772.9002 today to learn more about our bulldozer training, and prepare to dig into your new career!