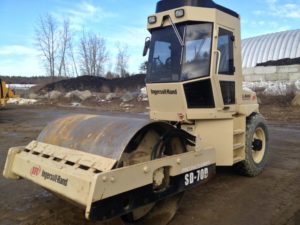 Course Information and Training Requirements
If you know how to use a roller compactor, you can find many opportunities for work in construction. That's because compaction is actually one of the most important steps in a construction project, as it helps ensure a solid and secure foundation is set before building takes place.
At Heavy Construction Academy, you can learn how to properly use different types of heavy equipment, including compactors. And, upon completion of our roller compactor training and certification course, you'll be ready to search for an exciting job in construction, which is one of the nation's fastest growing industries.
Whether you're brand new to construction or you're already working in this industry and wish to advance your career, this certification can help you take your skills to the next level as a heavy equipment operator.
Below, you'll find helpful information to get started, but please don't hesitate to contact us if you have any questions or you want to know more about the program.
Who should consider taking this course? Anyone interested in using heavy machinery should consider enrolling in this course to learn how to operate a roller compactor. Recent high school grads, those who are hoping to enter the field of construction, and veterans can all benefit from this hands-on training that will give you the confidence to safely operate heavy equipment in a variety of settings.
What can you expect after completing this course? You will know how to operate a roller compactor, along with seven other types of heavy machinery. Plus, to help you land a job after you've completed your training, we have job placement assistance available to you through our Career Services department
How long does the course last? Just six weeks.
Are there any prerequisite requirements? No, there aren't any prerequisites or licenses to worry about before taking our certification course. All you need to do is sign up whenever you're ready, and we'll give you the seat time necessary to learn in a hands-on way.
How should you prepare for this program? There isn't any special prep that's required before taking this heavy equipment training course. We'll provide you with everything that you need to successfully complete the program.
What can you expect to learn from this course? You'll be certified and ready to operate eight different pieces of heavy equipment, including front end loader, skid steer, backhoe, off road dump truck, motor grader, bulldozer, excavator, and, of course, roller compactor.
Do you want to see what students have had to say after completing our training programs? Visit our testimonials page.
Career Options and Certifications
Job duties for roller compactor positions vary based on the industry and the employer. Generally, however, reports show that job availability will rise by 12% each year for those who know how to safely and effectively operate heavy equipment.
Also, according to the U.S. Board of Labor Statistics, you can potentially earn $18-25 per hour, or $48,000 annually, on average.
The main requirement for roller training courses is seat time. For that reason, our program includes specific modules, and we primarily focus on hands-on training and seat time.
Operating a Roller Compactor General Questions
How do you get certified to drive a roller compactor?
We make it simple to get the certification you need to operate a construction compactor machine: just complete our 6-week training course!
Do you need a license to drive a roller compactor?
Although you might not need to get a roller license, you'll most likely need to pass a competency test to work on a job site.
Learn from the Best. Call Us Today!
HCA's heavy equipment operator training is taught by professionals with years of experience in operating heavy machinery, and they've already trained and certified thousands of students. Now, it's your turn!
Our students come from all over the country. If you're ready to get the training you need, but you require assistance with financial aid or lodging, we can help those who qualify.
Call 888.772.9002 today for more information, and get ready to dig into your new career!