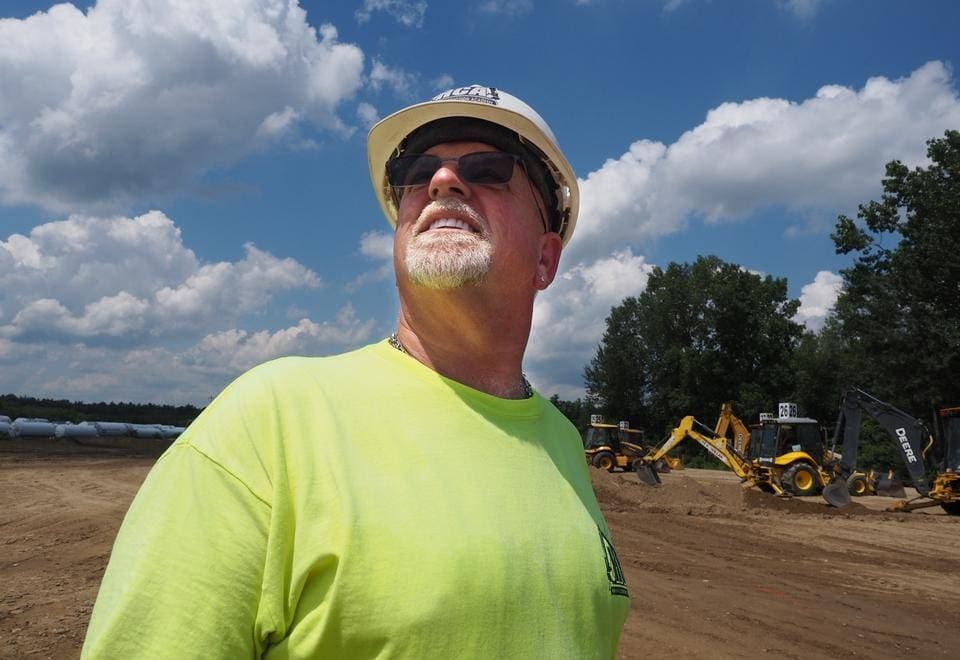 BRENTWOOD — When Christopher Patrick received his discharge after nine years of active duty in the U.S. Army, the employment picture was "kind of bleak," the Florida resident said. Though he'd trained as a fire alarm installment technician with Uncle Sam, he "didn't know where I belonged" when he came home. "In the military you're told what to do and when to do it," Patrick observed.
A job search on the "Indeed" website brought him to New Hampshire, where he spends his days prepping for a career operating heavy equipment.
On a back road in Brentwood, young men like Patrick and young women are training for careers in the heavy equipment industry. The Heavy Equipment Academy, or HCA, prepares students of all ages for good-paying jobs in a high-demand field.
Filling a gap
On a rainy weekday morning, men of varying ages stomped the dirt from their work boots and took off their hard hats as they filed into HCA's main building. They traded jokes and observations as they waited for HCA's free lunch.
"I got a bunch of shrapnel taken out of my leg," one young man told another.
It's not an unusual statement at HCA, where 85 percent of the students are U.S. military veterans, according to Brian Martin, director of Business Development and Operations. Students come from all over the country and every branch of the service, Martin said.
The school was founded by Ralph DelVecchio, its president, in 2004. DelVecchio spent 30 years in excavation and site development, after "jumping in his uncle's machine at 14 and running it," according to Martin. DelVecchio was part of several other career schools before branching out to start his own.
How it works
HCA students have a blend of classroom and hands-on instruction, Martin said. The back lot at HCA replicates a construction lot. A trainer works with them in the field. Every machine has a number, and the trainer can communicate with the operator by radio, according to Martin. "He can say, 'Hey, Number Three, your bucket's too low," Martin said.
Though these machines are the classic big-boy toy, their field experience is far from playful, Martin added. Each day is an orchestrated event. A student operating the front-loader will scoop up dirt and deliver it to a student operating a dump truck, who will then dump the dirt in an appropriate spot. Each student trains on each piece of equipment, he said.
The students are divided into Level I, the first three weeks, and Level II, the last three weeks. Level I students wear green helmets and Level II wear blue. They learn five machines each three-week session. There is a maximum of 30 students per class, Martin said.
Tuition is $19,050 per session, Martin said. But with an HCA certificate, a student can begin working at $44,000 per year. Tuition cost covers their training. Delvecchio covers their travel to and from the school and hotel stay for 6-weeks, according to Martin.
Many of the veterans pay all or part of their tuition through the Post 9-1-1 GI Bill, he said. Veterans and civilians can apply for scholarships, with eight scholarships offered per class, he said.
Admissions director Bill Clay said he works with every student to make tuition possible. One recent success story was a single mother from California who had raised two daughters, now in college on scholarships, and was in a low-paying job. The school worked with her, eventually granting a full scholarship. "She walked out of here with a job already lined up," Clay said. "Now she's supervising five sites and in charge of training for her company."
"Some people go through life," he said, "and never get a break. We want to change that."
Building a career
HCA looks at the whole student, according to Martin and Career Services Coordinator Shannon Croteau. Croteau does classes on resume writing, cover letters, soliciting references and that all-important job interview. The military vets often have no experience in interviewing, she observed: the service tells them what job to take and when.
She also covers the soft skills, such as what to wear to an interview, Croteau said. Ripped jeans are not appropriate for applying for a construction job, but neither is a three-piece suit.
 By their second three weeks, the students are focused on the job search, Croteau said. "We treat it like a part-time job," she said. "This is what you need to do to succeed on the outside."
She does an online job board, updating it every Friday, to "take the guesswork out," Croteau said. And she posts jobs in the students' home states and regions, so they will have more tailored leads.
It's not job placement, Martin clarified, but help with the job search. And HCA has more than 300 corporate partners looking for the right employees.
And it's career services for life, Croteau added. "We stay with them. If 'Joe' takes a job and it doesn't work out, he can call me and we'll see what else is available."
In the classroom they learn about grades, safety, excavation formulas, blueprints and project management. In the field, they learn to operate a skidsteer, front-end loader, articulating dump truck, backhoe loader, excavator, bulldozer, motor grader, vibratory roller and all-terrain forklift.
The "seat time" is important, Martin said. "The time they spend sitting in the machine is critical. They may be the right candidate on paper, but one slip-up with one of these could kill someone. You could back over someone and not even know it."
Voices from the classroom
Jim Hawkes and Bill Devine are the Level I instructors. Hawkes said he's had 29 years of experience in the industry, and though he's trained people on equipment, he formally started teaching two years ago.
"When they leave here after six weeks, it's rewarding to me to see students who came here not knowing much, but leave knowing how to operate a piece of heavy equipment safely," he said. He and Devine also enjoy seeing students break bad habits, when they weren't trained properly.
As Christopher Patrick bit into a sub from HCA's catered box lunch, he said he first found post-military employment as a truck driver. "It was a decent enough job," he said. But he's glad he discovered HCA. "I've always found these pieces of equipment awesome, the things they can do," he said.
Edwin Reyes of Texas was working at a call center and found out about HCA from his roommate. Though he's not a veteran, he experienced a similar frustration in looking for the right career, and found it in heavy equipment. "Most construction companies won't hire you without experience," he said as he munched on lunch next to Patrick.
Calvin Rose, 56, of Cleveland, Ohio, has been out of the military for 31 years. "I was in the U.S. Army for six years, in field artillery," he said. "I drove the track vehicles and the big tanks."
When discharged, Rose found a career in retail, operating a clothing store. But he recently wanted to try something different, and found it in HCA.
The student, now Level II, found out about the program during a visit to a VA hospital in West Virginia. "I was ear-hustling," he said with a smile. "I overheard someone talking about it."
"Now here I am, and I'm grateful I did it," Rose said as he checked his phone for job listings.
"I like the instructors, the way they deliver the message," Rose added. "I like their communication skills." And as an older student, he said, "I like the way they worked with me."
For more information, call (888) 772-9002; e-mail [email protected]; or visit www.operator-academy.com.
 Article Originally Posted on Seacoast Online here: