BRENTWOOD — Playing in the sandbox with big rigs is key to the curriculum at Heavy Construction Academy.
On any given day, 30 students — many of them veterans looking for a new career after the military — can be found riding around in excavators, front-end loaders, skid steers, motor graders, backhoes, rollers, bulldozers and articulated dump trucks.
In just six weeks, the students learn all the skills they need to safely operate nine different pieces of heavy equipment on about 12 acres of cleared land outside the academy at 48 Pine Road.
The school has grown since it began in 2004. Students now come from around the country to participate in the program that could land them a job as a heavy equipment operator earning $44,000 a year immediately after graduation, according to Brian Martin, the academy's business development and operations director.
With a staff of about eight employees, the academy prides itself on the amount of time it allows students to physically operate the equipment. Instructors watch and correct the students when they make a mistake while they dig trenches, grade and perform other assigned tasks in the dirt.
Martin said students spend 30 percent of their time in the classroom and 70 percent on the equipment.
"We have the most seat time of any school in the nation," he said.
Martin estimated that about 85 percent of the students are veterans looking to transition to a civilian job. The academy is a VA-approved facility for vocational training for veterans who receive funding to learn a trade after the military.
The school also helps its students with resumes and interviewing skills to help them get a job. Martin said many graduate with a job lined up or with potential employment.
Students at the academy spend six weeks learning how to operate excavators, front-end loaders, skid steers, motor graders, backhoes, rollers, bulldozers and articulated dump trucks. (COURTESY)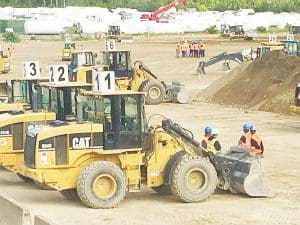 The tuition is $19,000 for the six-week program, he said, but the school offers financing to help.
Martin said the students graduate with a certification on the nine pieces of heavy equipment.
"When they leave here to go to a job site they could pretty much stick them on whatever's out there, and they're able to run it," he said.
Surprisingly, most of the students have no experience. Instructor Bill Devine estimates that about 80 percent have never operated a piece of heavy equipment.
"We teach them all the proper ways of running equipment that contractors and company owners look for. Nice and slow. Nice and smooth with the equipment. No banging. This is stuff that's going to progress them when they get a job," said Devine, who's been teaching at the school for five years.
Larry Waller is a 45-year-old student from Los Angeles and a Navy veteran who served in Desert Storm. He's worked as an electrician, but said he's always wanted to learn how to operate backhoes and other equipment used on some of the job sites where he's worked.
Waller said he learned about the Brentwood school through some military friends.
"Learning a new trade is always challenging. This is one of the best programs I've ever been in. I'm going to remember this for the rest of my life," he said.
Meanwhile, the school is planning to hold a special event called "HCA Day" on Sept. 16 from 9 a.m. to 1 p.m.
Families from the area are invited to attend what is being described as "New England's largest sand box." Martin said machines will be operating for people to watch and mounds of sand will be available for kids to play in.